With the construction of a new accommodation with 30 individual boxes, a number of spacious mare boxes for foaling and 20 places in the loose stables, Stal Krol has received a considerable upgrade. This means that the company has the following facilities:
Outdoor arena
Indoor arena
30 Boxes + a few big stables for the breeding mares
Group stables
Washing boxes
Special mare box for the vet
Meadows
Paddocks
All this offers the ideal starting point for the breeding, rearing and training of dressage and showjumping horses. Stal Krol itself owns about fifty horses, which means that we constantly have a wide range of young horses, sport horses and (pregnant) broodmares of our own. These are mainly KWPN and Holsteiners.
The size of the current barn is not something that was always obvious. More than fifty years ago, Nico Krol started his stable out of his hobby to keep horses. It all started with a small-scaled breeding farm, some sport horses and of course he visited a lot of horse inspections. Due to the many successes and the addition of daughter Nelleke to the company, this increasingly grew out of its jacket and the decision was made to invest in the quality of the accommodation.
In the early years Nico decided he didn't only wanted to focus on breeding with Dutch horses, but he regularly traveled to the Holstein breeding area. This resulted in many contacts with breeders and stallion owners. But he also travelled to other German breeding areas as well, which resulted in some other good relationships.
Approved stallions
During one of the auctions of non-approved stallions in Holstein in the nineties, Nico bought a young Caretino offspring. The stallion known as Caridor got approved for the Oldenburg studbook and achieved many successes with Jos Lansink. However, this was not Stal Krol's first approved stallion. The Gelderland stallion Zichem (Gondelier x Eclatant) is where it all started. This stallion has produced several high-quality offspring such as Lollipop (among other things National Champion Gelderland Horse) and Serious (approved KWPN).
Other approved stallions that followed were:
Navarone (v. Jus de Pommes)
He was purchased by us at the SELL foal auction in Deurne. In 1998 the stallion was approved and then sold to the USA where he jumped at 1.30m level and also achieved to perform into the Grand Prix of dressage.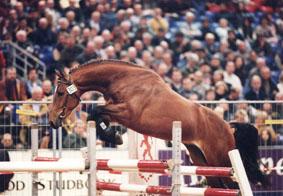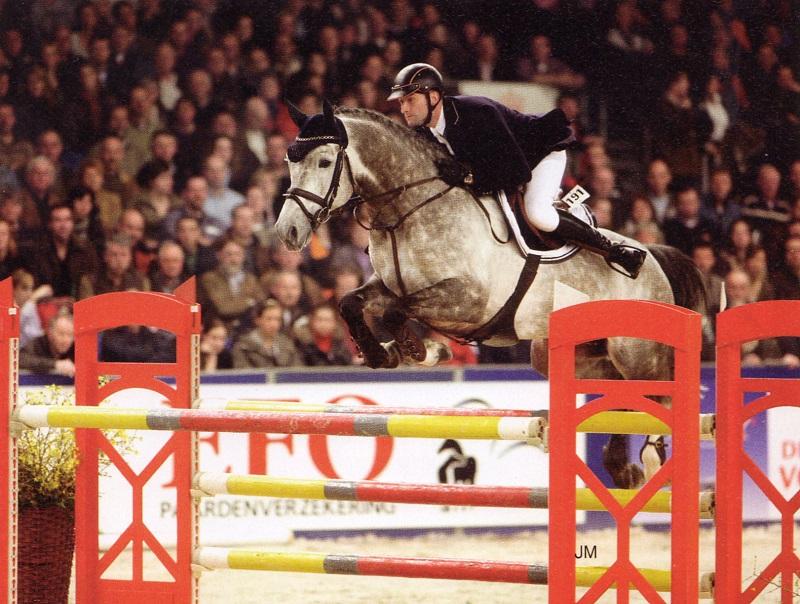 Sydney (Goodtimes x Alasca)
Marcel de Boer achieved many successes with this stallion in the stallion competition and later in 1.35m jumping. He was then sold to Mexico where he was used for sport and breeding. This is the horse that is incorporated in our logo.
Sandor (Inspekteur x Epigoon)
Stal Krol bought this stallion as a foal. Afterwards he was selected for the stallion inspection of the Gelderland horses in Ermelo in 2022. He didn't get into the test then, because he was sold to the USA where he was later approved by the KWPN-NA.
Uno (Libero H x Calypso II)
This self-bred horse was selected by the KWPN for the performance test. The stallion was later approved for the Holsteiner Verband and sold to Italy under the name Ladros.
Comes directly from the well-known Daula damline. With his British rider he reached Inter I/PSG level.
Clint Eastwood (Clintion x Cordial Medoc)
We bought this horse at the stallion selection in Oldenburg where he finished fifth in the championship. As a five-year-old we sold him to Stal de Korenbloem where Ferenc Damen trained him up to Prix St. Georges level. After this the stallion was sold to Australia.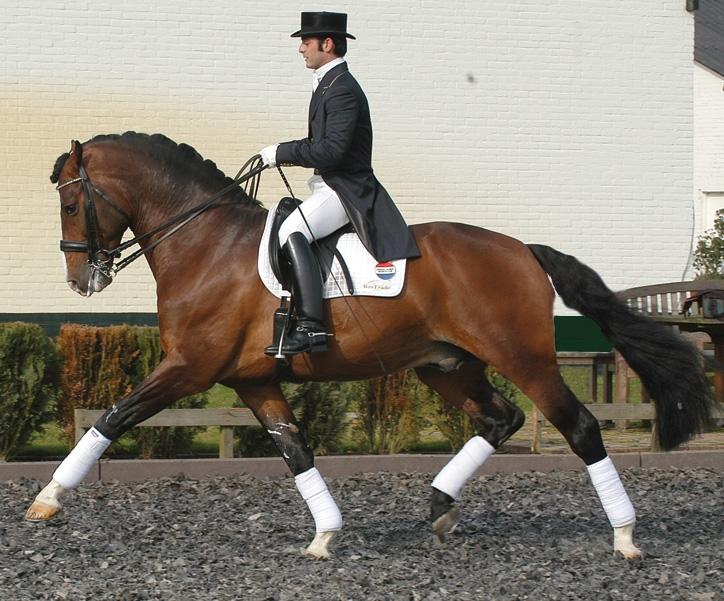 This brown colored English thoroughbred was born in Colombia. With his rider German Camergo he has had an impressive career in show jumping and earned more than 1 million dollars. He is now recognized by the KWPN, Holsteiner Verband, Hanoverian Verband, Oldenbrug, Trakhener Verband and Selle Francais.
Escobar (El Capone x Sydney)
This NRPS approved stallion was born in our stables with the name Jimmy Hoffa.