For our breeding we use a number of good dam lines that we have collected and built up over the years. Our mares come from dam lines that have produced many sport horses and that we know through and through.
We breed several foals every year. The goal of our breeding is to breed good horses for the sport with character and attitude as the main focus.
The mare lines we currently breed with are:
This is a line that Nico got from Holstein by purchasing the young mare Natasja (by Bachus) from Holstein Stamm 8869. At Stal Krol she gave several foals including Utah (by Hemmingway) who made it to the PSG/Inter with Nelleke, but also the 1.40m horse California RT and the grandmother of the approved Escobar, Virginia. With Bahia Blanca (s. Sydney), she produced only one offspring, but one that appears to pass on her quality well.
Bahia Blanca is the dam of Escobar, the selected stallion Luca Brasi and the second viewing stallions Iowa and Koning Krol, all offspring of El Capone.
The mare Ramona was bought at the age of three from Jan Verhagen and came out of his successful preferent performance mare Heureka (Ahorn Z x Fernese x Ladykiller). That means that she's a descendent from the well-known Holsteiner stamm 1859 of Novella, the mother of the stallion Landadel.
When Nico bought her, she was in foal of OO Seven. This worked out well and gave the second viewing stallion Victor. S he produced a total of ten offspring, of which Harmony's Armani (s. Sydney) competed in the Big Tour and Calvin Klein (s. Dolany) and Hilfiger (s. Johnson) in the Small Tour. Many of her other offspring have been sold to the USA.
She herself brought it up to Z2 with Nelleke, which means that she earned the predicates elite and sport. Because of her successful offspring she also became preferent and performance. Her offspring Hilfiger is still at Stal Krol to use her as a breedingmare after her sport career. She is currently released at Inter 2 level and used for breeding via ET. Nelleke hopes to reach the Grand Prix with this mare.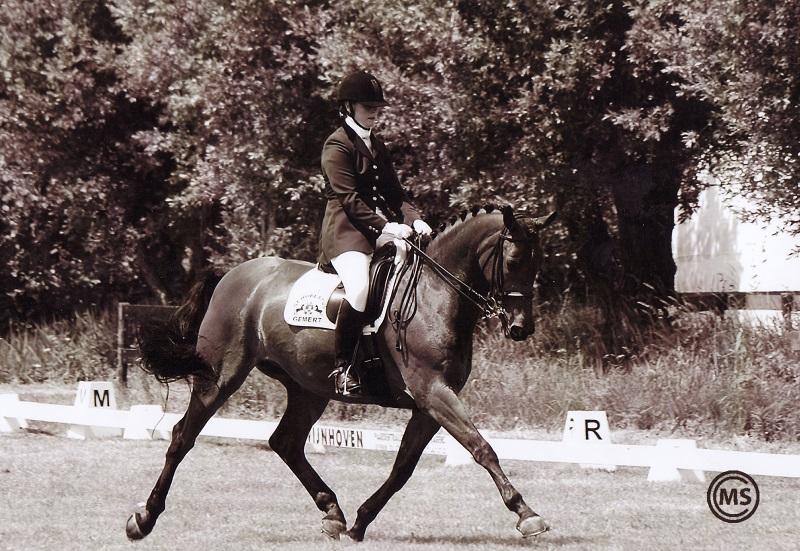 This older Holsteiner mare by the stallion Contender comes from a dam line that produced several good showjumping horses and she was also a good jumper herself. With many offspring who compete in the sport, including the two approved stallions Cassander (s. Cassini I) and Limoncino (s. Livello) and the 1.50m horse Classico 73 (s. Cayado) and the 1.45m jumping Classe 2 (s. Clearway).
As a young mare we bought Fancyomara (by Indoctro), a descendant of the mare Beaumara (by Unistar) who is a half-sister of Olympic champion Hickstead. The famous Ekstein mare Jomara is known as Fancyomara's grandmother. Only her pedigree makes her very interesting for breeding.
She herself has not got in the sport, but she has completed a successful IBOP where she succeeded with no less than 80 points. Two of her still fairly young offspring are already performing well in show jumping at 1.25/1.30m level.
The KWPN mare Hitlena (by Dutch Design) descends directly from Holsteiner stamm 1333 through her dam Gitlena (by Lord). Gitlena gave several horses that jumped at 1.35/1.40m. Her first offspring Lady Vagabond (s. Vagabond de la Pomme) competes internationally at 1.25m level at a young age.
Curious about the horses within our breeding?